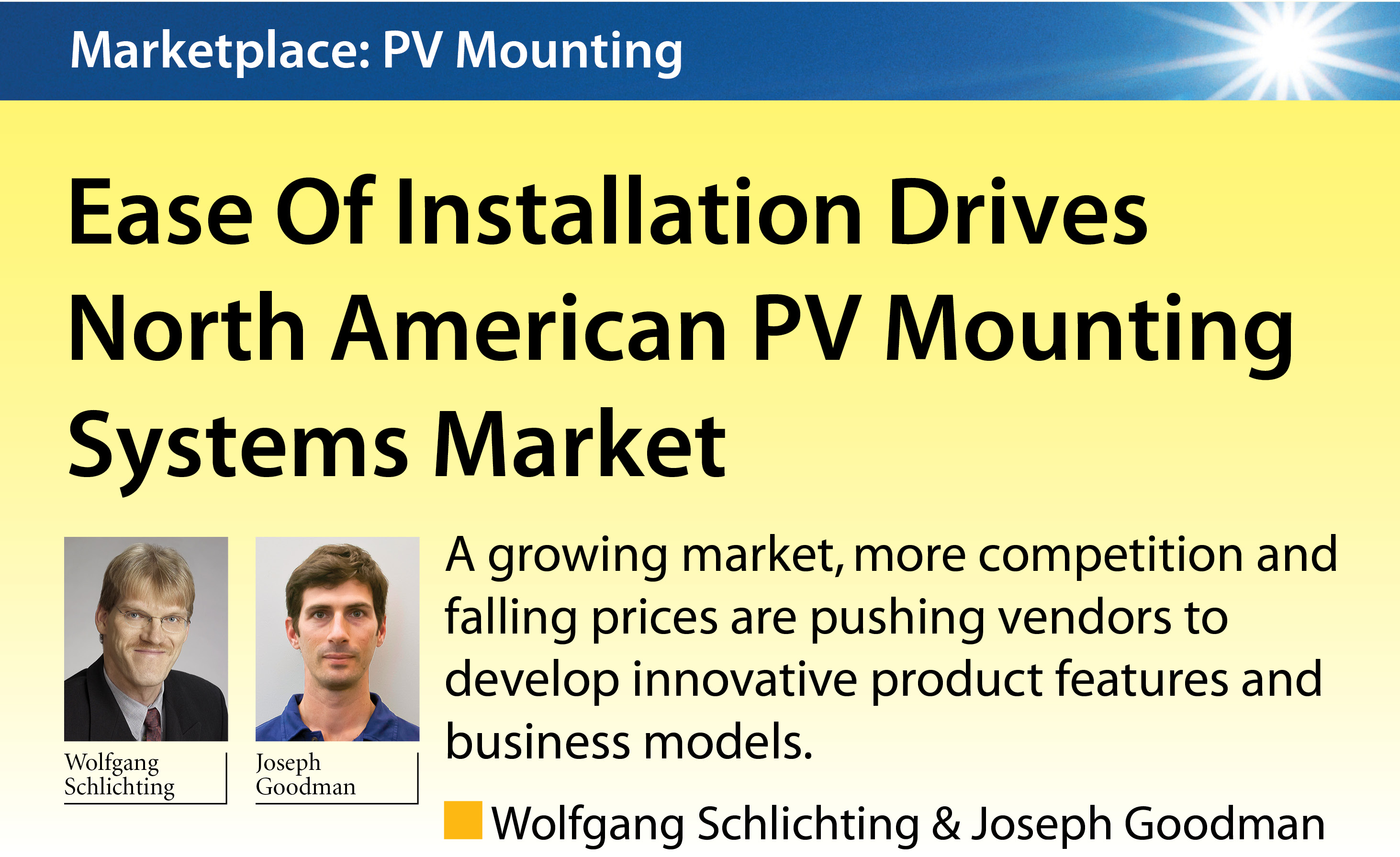 Market research suggests the North American photovoltaic mounting systems market will grow substantially in the next three years, driven primarily by commercial and residential rooftop installations. However, the market is becoming more competitive, as demonstrated by racking company acquisitions and the entry of more competitors from overseas.
At the same time, pressures to reduce installation costs in such a competitive environment should not suggest a "race to the bottom" in terms of mounting product prices. While system prices should continue to decline, research and development into improved materials and ease-of-installation features will produce competition based on overall project costs. Thus, PV mounting vendors - and perhaps vertically integrated turnkey providers - will compete on product-plus-service rather than a component-only basis.
According to our research, the North American photovoltaic mounting systems market is poised to grow 69% between 2013 and 2016, accounting for more than $1.6 billion in activity. This growth will be strongest in the pitched-roof mount segment, followed by flat-roof mounts on primarily commercial buildings, as shown in Figure 1. Ground mount was the dominant segment of the overall market in 2013 and will gain additional market share this year - accounting for 59% of total economic output in 2014. The ground-mount segment will experience slower growth during the next three years as utility-scale solar energy projects slow down, but will still account for 46% of revenue in 2016.
In 2013, the top three overall market-share leaders for PV mounting systems in North America were Schletter, Unirac and Zep Solar in terms of the megawatt-equivalent mounting system, installed. Schletter was the market leader in ground-mount systems, Zep Solar was the leader in pitched-roof installations and IronRidge was the leader in flat-roof installations.
Key trends for the North American PV mounting market include the following:
Increasing presence of competitors from overseas;
Vertical integration of the mounting systems business, especially the shift to turnkey mounting solutions; and
Designs for measurable installation speed increases and efficiency improvements.
Competition fuels innovation
The North American market has become an attractive geography for expansion because of the market's strength. Weakness in other major markets - especially Europe - has helped drive manufacturers to North America. Therefore, it is no surprise that European - and especially German - mounting systems manufacturers have been entering the market with U.S.-based subsidiaries. This includes Schletter, S:Flex, Renusol, Everest/K2, SST, CreoTecc and Mounting Systems.
It is interesting to speculate on what impact east-west mounting configurations - as opposed to south-facing - that have arrived with European companies will have. Traditional south-facing mounting systems usually produce more total power. East-west facings are optimized for the morning and late afternoon sun, which are times of peak electricity demand in many areas. Utilities, for one, benefit from peak shaving.
Also, some Asian competitors are active in North America, including China-headquartered Clenergy. Other vendors from India, South Korea, China and Europe are positioning themselves as viable competitors in North America.
Mounting systems vendors are integrating vertically in both directions: upwards, with module and balance-of-system (BOS) products, and downwards, with installation services.
Examples of upward integration include SolarWorld, First Solar and Trina adding a branded racking/mounting system to their portfolios. This allows them to be more active in the solutions business. Also, Shoals, a BOS vendor, has added ground-mount and car-port products to its portfolio.
As for companies integrating downward, there are several examples of mounting systems vendors hiring their own installation crews for rooftop projects. A much larger combination of a mounting system vendor and an installation-focused company is the $158 million acquisition of Zep Solar by SolarCity. Also, in February of this year, Sunrun acquired Mainstream Energy's SnapNrack solar mounting systems businesses.
Overall, the turnkey approach is gaining traction. Turnkey racking and installation reduces complexity and risk for customers and consolidates margins for an economically viable business model. This business model is expected to gain popularity. For example, RBI Solar was able to gain over 3% market share with this approach.
Mounting systems vendors claim that their innovative designs make their systems easier and faster to install than those of the competition. Of course, very few vendors can back up those claims. Fewer yet can quantify those savings. This quantification is a business opportunity.
Some vendors approach their designs with extreme simplification. Dynoraxx, for example, has a tool-less design. SnapNrack and others design systems that require only a single tool. Other vendors, including SunLink and AP Alternatives, attempt to increase installation speed by enabling the pre-assembly of mounting structures off-site, which is helpful for those installers able to store and transport such sub-assemblies. Many roofing system vendors are incorporating more modest features that nevertheless move installation work off the roof.
Price pressures
Prices for PV mounting systems are expected to decline for all three major market segments. Compound annual price declines through 2016 are forecast to be in the range of 7% to 9%.
As vendors have felt price pressures, they've responded in various ways: some by integrating, others by using cheaper materials, and some also by reducing the numbers and varieties of components. Some vendors have combated commoditization by employing unique engineering solutions designed to speed up installation times.
In the last two years, we have seen diversification in racking materials and manufacturing methods in an attempt to claim intellectual property space while, at the same time, reducing hardware and labor cost. Cast-steel racking, roll-formed rails, extruded sections and injection-molded bases could all be found in the products of major mounting systems vendors. Currently, the value proposition is focused on labor savings. However, discerning buyers are wary of unproven labor cost savings and staged installation videos.
Moreover, with the investment tax credit (ITC) set to expire at the end of 2016, racking providers have to be focused on accelerated hardware cost reduction in order to be prepared to operate in a lower-margin, higher-volume, post-ITC market. Beyond cost reduction, flat-roof racking manufacturers are also using wind-tunnel testing to differentiate on dead weight, especially in large retrofit projects with load-constrained roofs.
In the residential market, labor savings have been more directly monetized into product value. Noteworthy installer-inspired time savings innovations are enabling half-day residential installs and fueling acquisitions for vertical integration.
Additional racking hardware and labor savings are being found in smart power electronics that enhance array layout flexibility and even provide integrated ground paths. The aggressive material cost reduction seen in commercial products has not substantially migrated into the residential market - yet.
Also, plastics and composites are being introduced into commercial rooftop racking systems at an accelerated pace. Given that the strength-to-cost ratio of composites and plastics compared to galvanized steel makes a hard sale, product manufacturers are differentiating on weight, packing efficiency, enhanced features and no equipment grounding requirements. Patriot Solar's recently released Spider ST ballasted roof mount, developed under the U.S. Department of Energy's (DOE) SunShot initiative, is an example of differentiation through the use of injection-molded plastics.
Parallel efforts to design self-grounding features into metallic racking and also provide a ground path for module frames will prevent a single material from dominating the market within the next few years.
In the long term, when module and inverter prices bottom out, building owners will look for innovative racking solutions and building-integrated PV to apply the commoditized products in new configurations for added value. Examples of such products include covered parking, rain screens and external shading devices. These applications will attract manufacturers from adjacent industries into PV racking, as demonstrated in the Kawneer Powershade.
Research and design
Detailed time and motion studies conducted by Georgia Tech and Rocky Mountain Institute have identified 10 activities that contribute to 80% of the labor time for racking and mounting.
This suggests that the impact of a single good idea may be limited and that transformational systems must be composed of many good ideas working in harmony, which reinforces the need to focus on a system engineering approach. A multi-disciplinary team is best positioned to design a PV system that addresses structural integrity, electrical bonding, mechanical fasteners and human behavior.
One hypothesis Georgia Tech has developed from its time and motion studies of these individual installation activities is that variability in installation time is correlated with installation quality. In future efforts, the time and motion team hopes to strengthen the causal relationship between labor time and assembly quality.
Data collection in Germany has verified the impact of eliminating key activities and identified proven strategies for labor time reduction, as shown in Figure 2. The need to attach grounding for each module was eliminated in German installations by utilizing contact grounding that is achieved through the weight of the module.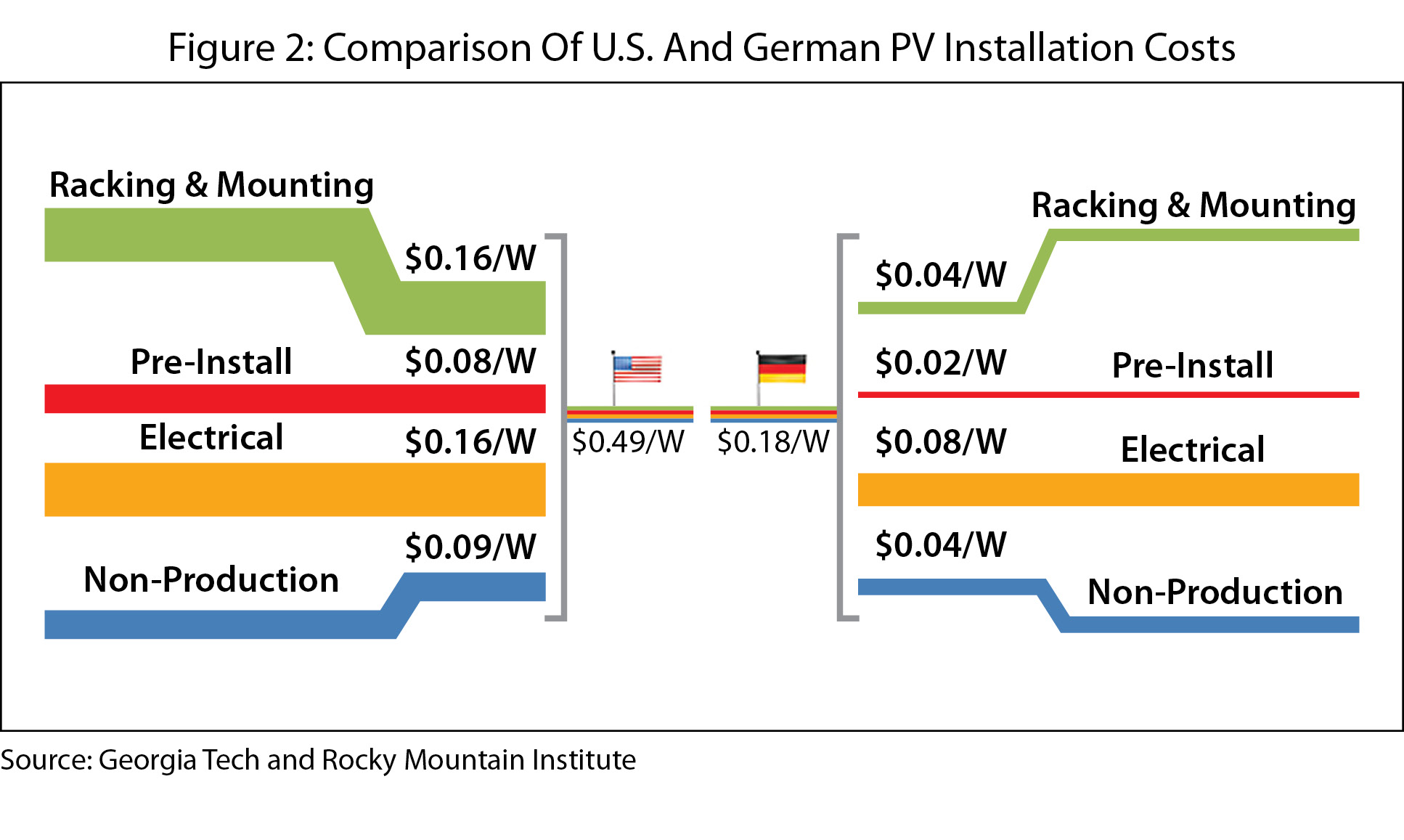 This method is not approved in the U.S. - nor do we recommend it without extensive research, testing and approval of the authorities having jurisdiction. However, contact grounding does validate projected labor savings from systems that fix the module position and provide a UL-certified ground path through a single connection. A research team at Georgia Tech is developing a tool-free module clip along such lines.
The use of module lifts and scaffolding for multi-story pitched-roof installations is an interesting labor-saving approach that was a result of worker-safety regulations. Specialized module lifts based on the design of tile lifts are ubiquitous on German installation sites and are just now entering the U.S. market.
For the highest-volume installation companies observed in Germany, specialized crews or subcontractors are deployed in advance to assemble scaffolding and module lifts before the PV system installation crew begins its work. This workforce striation promotes specialization and reduces installation time variability, sometimes enabling two installations to be scheduled in the same day.
The upfront cost of a specialized lift is easy to bear if the installer uses the lift daily, but more difficult to justify if the installer is involved in many different types of sites.
Until recently, mounting systems had been a relative afterthought during project development. Now, with more focus on reducing the soft costs and BOS components, this has changed. Of particular interest for PV installers are mounting systems that enable faster installation speeds and enable increased installation capacity.
Only mounting systems companies that continue to invest in innovations that result in measurable cost savings for PV installers will be viable players. This will become especially critical after the ITC has expired in 2017.
Market analysis information for this article comes from the 2013 North American PV Mounting Systems Report by Wolf Research LLC. The authors analyzed leading vendors in the North American PV mounting systems market, including the following: Schletter, Unirac, IronRidge, Zep Solar, RBI Solar, S:Flex, Solar Flexrack, PanelClaw, AET, DPW, SunLink, AP Alternatives, Renusol, SnapNrack, Polar Racking, Legrand, Dynoraxx, Shoals, Eaton, Zilla, Everest Solar, Marge, SolarWorld, First Solar, Trina Solar, Quick Mount PV, S5!, ProSolar, GameChange Racking, KB Racking, SST, Baja, HB Solar, Orion Solar, Ecolibrium Solar, CreoTecc, Advanced Racking, Mounting Systems, tenK, Clenergy, Genmounts, Sader Power, Sapa/Hydro, Solar SpeedRack and QBotix. R
Marketplace: PV Mounting
Ease Of Installation Drives North American PV Mounting Systems Market
By Wolfgang Schlichting & Joseph Goodman
A growing market, more competition and falling prices are pushing vendors to develop innovative product features and business models.
si body si body i si body bi si body b dept_byline
si depbio
si sh
si subhead
pullquote
si first graph
si sh no rule
si last graph
si sh first item
si sh no rule
sidebar_headline